This post is the fourth in our Smarter Parenting series, created by Stephanie Hinderks. Stephanie is a mother of two, and a senior product manager at Alarm.com.
If you've been following this series, you've already learned how your smart home security system can give you super parenting powers. You might even be ready to go shopping for one.

You're probably also aware that there are a lot of other "smart" devices and security products out there.

So, now that we've covered some ways smart home security systems make life easier for working parents, as well as new parents, and families with school-age children, let's talk about some essentials you should look for as you evaluate security technology for your home.

1: It should protect you proactively




I have peace of mind knowing that my security system is working for my family every day, keeping us safer 24/7. And if an emergency (a real one, not just "the sitter is locked out") should ever arise, I know help would be on the way.

For instance, if we had an attempted break-in, our system would alert the central monitoring station using a cellular signal. It's a dedicated connection that can't be disabled from outside. There's no cord to cut, unlike traditional phone lines which can be knocked out with a simple pair of wire cutters. The central monitoring system would then dispatch police to our home.

But my Alarm.com system doesn't stop there. If a fire ever broke out in our home, our smart smoke detectors would signal a central monitoring station to alert the fire department, while simultaneously our smart thermostat would shut off the HVAC system, stopping fumes from circulating before we had time to escape. We sleep better knowing that our home proactively protects us.

2: It should be easy to use.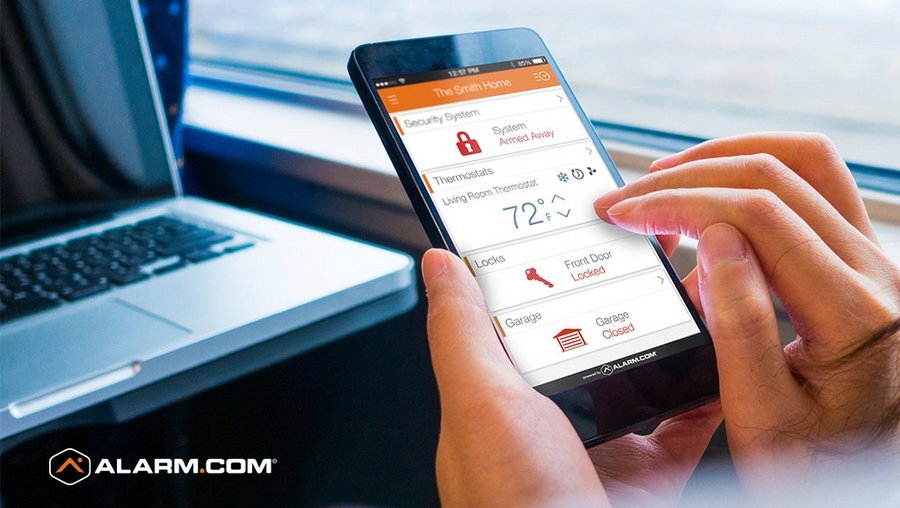 A traditional (non-smart) home security system will alert a monitoring station in an emergency — if you have it turned on. That's a bigger "if" than you might think.

Old-school systems can be hard to operate, especially when you walk in with your arms loaded with groceries or school bags. Sitters and guests forget the code, causing false alarms. It's tempting to just turn the system off. Or, you might simply forget to arm it yourself. Unlike a smart security system, it won't send you an alert.

But if you use a smart security system, you can control your home's security from anywhere, and see into of your home anytime. Smartphone alerts and reminders ensure that my family's always protected and I'm connected to what's happening at home. My app makes my life easier, and makes me want to use my system more, not less.

3: Tech support should always be available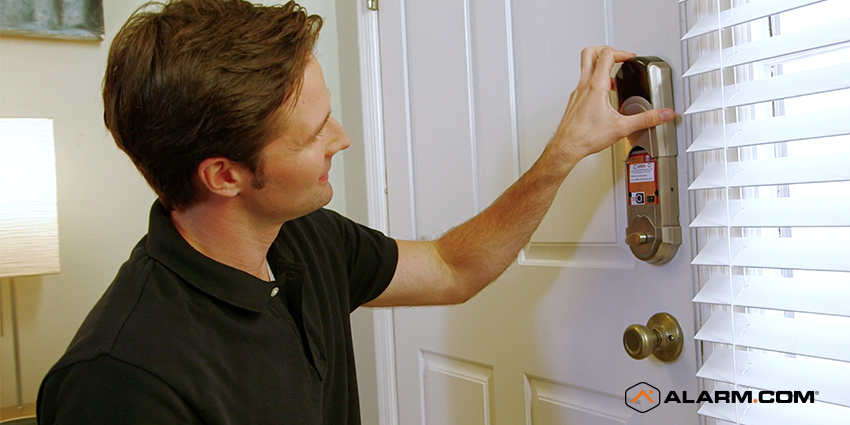 It's tempting to buy connected devices piecemeal. You're online right now: you could probably buy yourself a smart lock, or a video camera, or an energy-saving smart thermostat in the next 60 seconds. But once it arrives, you're on your own. Installation, configuration, getting all of those devices, and their apps to work with each other? That's on you.

We didn't have that problem. An authorized dealer came to our home to discuss a customized system that met our needs, then installed everything in a single day. If anything ever goes wrong, all we'll need to do is call them.

And, instead of paying for everything upfront, we paid an installation fee, followed by a subscription (a bit like owning a smartphone) that includes equipment, professional monitoring, customer support, and access to the latest features and technology.

I'm still blown away by how easy and convenient it's all been. If there's a smarter investment for protecting your kids, your home and your peace of mind, I'd love to know — but I'm not sure there is.

Ready to get Alarm.com in your home? Here's how to connect with a service provider, and everything else you need to know.

A version of this post originally appeared at babycenter.com.